Cologne
The aromatherapy line, Blu Mediterraneo, was inspired by the Italian landscape and includes bath oils and perfumes. Like the original perfume, this line is unisex, so the products are suitable gifts for men and women.
In 2001 the company was sold to the extremely large high-end brand company, LMVH, but the perfumes are still hand-distilled in Italy.
Acqua di Parma Iris Nobile Eau de Parfum



A new olfactory interpretation of the iris flower, Acqua Di Parma Iris Nobile strikes the perfect balance between the elegance of a classic floral bouquet and modern, refined notes like mandarin from Sicily, vanilla from Madagascar, cedar flower, and ambrette crystals.





Iris Nobile is now available in an Eau de Parfum spray, an intoxicating concentrated version for a deep, long-lasting scent.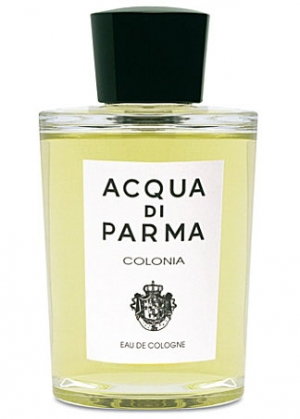 Acqua di Parma Colonia Acqua di Parma for women and men
Acqua Di Parma Colonia was presented as a citrus fragrance. It was composed of lavender, rosemary, Sicilian citrus, Bulgarian rose, jasmine, amber and light musk.
The bottle is simple but elegant, charming in the Italian way. It comes as 180ml bath oil and Eau de Parfum.
There is another version of this fragrance, the limited edition for 2007, named Colonia Edizione Murano. The bottle is made of Murano glass, beautiful and elegant, designed by Giorgio Vigna.
Read more about this fragrance in the article on the prestige Italian house Acqua di Parma
ACQUA DI PARMA – COLONIA
Were you ever at a foreign airport and 'whift' in a most sophisticated scent that was as clean and steely as the men and women who wash their aristocratic fingers in bowls at the Ritz Monaco? You think '… if I ever had that fragarance, my whole life would open like a sparkling white door onto Park Avenue's Easy-Street'. If your daily quest is to be an out-of-the-box sophisticate, Aqua Di Parma may just be your new Summer scent!This 90 year old fragrance contains Sicilian citrus, lavender, rosemary, verbena, Bulgarian rose, sandalwood, vetiver, cedar and ylang-ylang; it begins clean and sharp with pungent citrus and verbena. It's lasting strength is great and turns into something equally clean and marvelous into the early evening. Keep in the fridge so you can splash it around you cold, it will be bracing and life affirming all Summer long. Ava Gardner, Humphrey Bogart and Carey Grant were no fools. Available only at Brown Thomas.

Acqua Di Parma Colonia Murano Edition
Acqua di Parma have created a limited editon version of its signature colonia (cologne) in collaboration with the Italian Murano glass artist Giorgio Vigna. The bottle is made of handblown Murano glass in yellow and black the colors of Acqua Di Parma the shape of the traditional colonia bottle. Only one thousand one hundred of the refillable bottles will be made and each is engraved with the serial number.
Cologne Oil Soap
Last year Acqua di Parma introduced its first female fragrance, Iris Nobile, which was created by the company's 'nose', Paola Paganini. Inspired by the beautiful iris garden in Florence where growers compete for various prizes, she decided to base the perfume on this expensive and delicate flower which is the emblem of Florence. She used the common variety, the blue pallida, and the oil from the rhizomes or thickened stems. These are gathered, dried and distilled over three years.