Make-up that packs a punch
When it comes to applying make-up a great base is certainly necessary but what really packs a punch is the eyes and the lips. Both assets can be worked to create a dramatic impact with the right make-up.
Mascara works to make the eyes stand out even further, try investing in a label such as Oscillation in Black Motion, which can be purchased for £29 and will aid in lengthening the lashes, mix this with a coat of Hypnose Drama in Excessive Black, which is £20 in order to thicken the lashes and add that extra wow factor. Both of the above products are available from Lancôme, which can be sourced from a variety of beauty counters and prestigious department stores nationwide.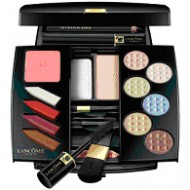 Finally the lips should be treated to a statement lipstick, which can be applied with the fingers. Such a procedure creates a subtler look, for added shine apply a gloss. A great investment is anyone of the Lancôme Juicy Tubes as they come in an assortment of colours; there is certainly one to suit all personas and all outfits!
For a more dramatic style try working stained lips. Strong lip colours are great for the party season or an event; try Lancôme's French Touch Absolu in Cherry Kiki for a little extra oomph. This particular product can be obtained for a cost of £23 and is again available
for an array of department stores and beauty counters nationwide, making it a must-have investment for Christmas